---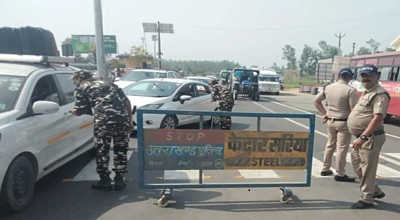 ---
740 pilgrims coming to Bath in Dharmanagri Haridwar were returned by the police for not showing the RTPCR report. Police continued to check on all the borders of the district till 2 in the afternoon.
An intensive campaign was conducted to check the pilgrims coming to take a dip in the Haridwar Ganga for bathing of Ramnavmi. Since late at night, paramilitary personnel and policemen were deployed on all the borders.
On Wednesday, 11,814 pilgrims entered the district border with 2392 vehicles. Along with this, 5059 people were tested at the border. Of this, 37 were found positive. At the same time, 740 people who entered the border of the district without showing the Covid report were sent back.
Fear and restrictions of Corona prevented pilgrims' steps:
The impact of the rising outbreak of Covid-19 was also reflected in the Ramnavami Snan festival in Mahakumbh. The pilgrims could not reach the Haridwar Ganga ghats due to strictness on the border and fear of corona. Harki Paidi was much less crowded than normal days. Other Ganga Ghats also remain deserted. According to the fair police, only 67 thousand devotees took a bath in the Ganges on Ramnavami.
On April 11 to 14, crowds of 49 lakh people had gathered in Haridwar. The corona infection then spread rapidly. The process of getting infected from the saints of the akharas to the officials and the local people is still going on. On Wednesday, on the festival of Ramnavami, the government had made the mandatory RTPCR negative report and registration of Covid for passengers arriving in Haridwar. To strictly follow the standard operating procedure (SOP), police and paramilitary forces were deployed from the border to the Mela area and the Gangetic banks, but due to the fear and restrictions of Covid, devotees could not reach Haridwar at the festival bath.
The bathing time was from 6.15 in the morning to eight in the night. There was also Amrit Yoga from 12.20 in the afternoon to 1.58 pm, but the Ganga Ghat was deserted. Harki Paidi was less crowded than normal days. Only the devotees of the count arrived to bathe at Harki Paidi, Brahmakund. The police did not let the devotees stop needlessly. The devotees were sent back after taking bath. The police and paramilitary forces in Harki Paidi area were ready. According to IG Kumbh Sanjay Gunjyal, barring the Corona period, more than one and a half lakh devotees arrive daily to bathe at Harki Paidi and other ghats on normal days, but only 67,537 thousand people took a dip at Ramnavami.