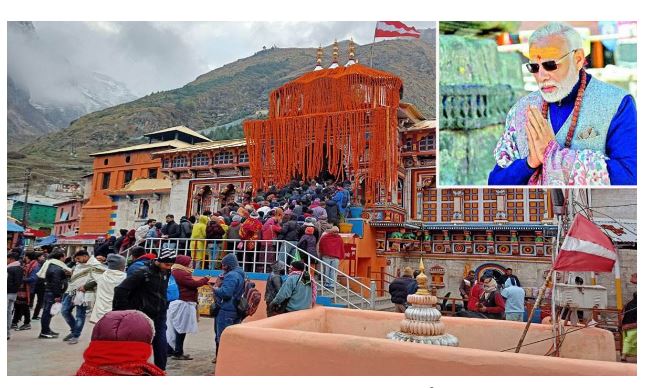 Local residents are very excited about the public meeting and dialogue of Prime Minister Narendra Modi in Mana, the last village of the country.
While the people of Bhotia tribe will sing the welcome anthem on Modi's arrival, Pauna dance will also be performed. There is also a preparation for organizing the world famous Ramman. Badrinath Dham is decorated with 15 quintals of flowers.
Prime Minister can also communicate with local citizens:
In Mana, women belonging to self-help groups will display self-made products. The Prime Minister may also possibly interact with the local citizens. Local costumes and other things have been engraved through paintings on the walls of the Prime Minister's public meeting and on the temple road, so that the walls also speak on the arrival of the Prime Minister.
Badrinath decorated with other flowers including marigold and rose:
Badrinath temple is decorated with flowers including marigold and rose. Badrinath will be zero zoned on the arrival of the Prime Minister. During this, barriers have been installed at various places including Dev Darshani and Bus Adda to prevent vehicles.
Chief Minister Pushkar Singh Dhami, BJP State President Mahendra Bhatt, District President Raghuveer Bisht and Education Minister Dr. Dhan Singh Rawat etc. will be present in Badrinath Dham on this occasion.
Briefing the police officers:
Additional Director General of Police V. Murugesan, Deputy Inspector General of Police Krishna Kumar VK, District Magistrate Himanshu Khurana and Superintendent of Police Shweta Choubey briefed subordinate officers and security personnel about the Prime Minister's visit to Badrinath Dham.
Deputy Inspector General of Police Garhwal Range Karan Singh Nagnyal addressed the concerned security personnel in the transit. Instructions were given to the officers deployed for the security of the Prime Minister to efficiently perform the assigned duties.
Along with security arrangements on the Yatra route, instructions were given to stop the vehicles only at the parking places made for the general public and passengers. The public visiting the Prime Minister's program is allowed to bring only mobile phones with them.