Delhi: Bar Council of India A constitutional constituted by the Parliament under the Advocates Act, 1961 (Advocates Act, 1961) to discharge the functions of regulating/regulating legal education and the legal profession in the country and promoting the star of legal education. Is an institution.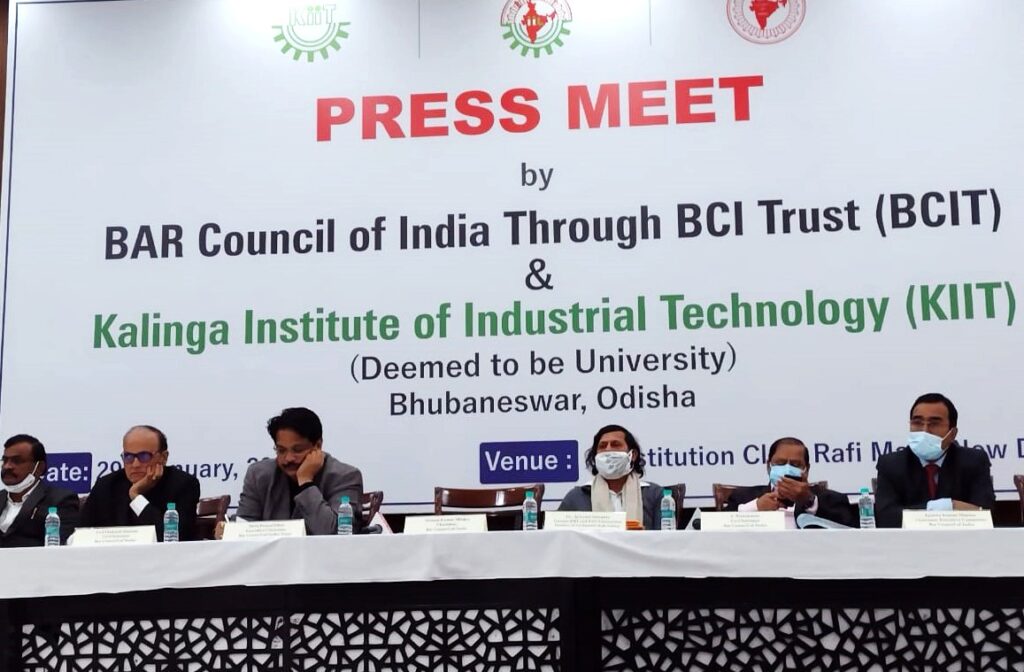 The Bar Council of India, through the trust, has entered B.C.I. The Trust for Promotion of Education (Legal and Vocational) has taken the initiative to establish an ideal "Law Teachers Academy" called Indian Institute of Law for law reform research and reform of social training, this institute is a continuous law for advocates. She will also carry out education and research work.
IIL will work closely with and under the aegis of "Kalinga Institute of Industrial Technology (KIIT)", India's renowned deemed university.
Till date, there was no training institute in the field of law to cater to the skill development needs of law teachers, and advocates. Law teachers and young lawyers will enhance their work skills through the Indian Institute of Law (IIL).
B.C.I. The Trust established the first institute in Bangalore in 1986 as National Law School of India University, which still remains the Model Law University of the country. IIL will be the first institution of its kind in the entire country. For a long time, our council was thinking about such an institution.
But B.C.I. The said plan could not come to fruition at first due to some or the other, but ultimately after consulting a great visionary, academician, Honorable Member of Lok Sabha and founder of KIIT and KISS Deemed Universities, Dr. Achyuk Samant ji, the members of Bar Council of India Decided and passed a resolution that the Indian Institute of Law be established in Bhubaneswar, Odisha in support and support of KIIT University.
B.C.I. The Trust has entered into an agreement with KIIT and accordingly KIIT has provided very valuable and useful land required at Patia, Bhubaneswar. Apart from this, KIIT University has also agreed to bear 40% of the cost of the infrastructure of the proposed campus of 1.5 lakhs.
---
---
There is no doubt that the said institute will have a long-term impact in the field of legal education by strengthening the position of the whole of India, especially the state of Odisha in the global education map. This institute will prove to be a major achievement for Odisha in particular and the nation as a whole.
The Indian Institute of Law will manage and operate a variety of programs for practices and methods related to Continuous Legal Education, Professional Skill Development Program, Refresher Course and Learning Course for Alternative Dispute Resolution. Mediation and Conciliation under different centers of learning and teaching; It will conduct research in all aspects of law, judicial and social development and will publish and display it.
It publishes casebooks, journals, newspapers, etc. (both hard copy and soft copy both online and offline) on various legal topics for lawyers undergoing training and legal education for the purpose of continuing legal education. Will do.
From time to time, this institute will organize and conduct institute seminars, training programs for advocates, academics, and jurists.
It is used for its advancement within and outside India from National Law Universities and other good law universities, professional bodies, judiciary, government departments and NGOs and various advocates associations, bar associations, state bar councils and reputed institutions and legal functions of the world. Will collaborate with other organizations involved.
The first phase will have the following units of IIL:
(i) Academic Staff College (ASC)
(ii) School of Continuing Education (SCE)
(iii) IIL Training Center (IIL-TC)
(iv) Legal Aid Center (CLA)
(v) Bridge course for foreign degree holders
For the management of IIL, three bodies i.e.General Council, Executive Council and Academic Council will be formed and these management-related bodies include the Supreme Judiciary, Government, Ministry of Education, UGC, academics, senior members of the legal profession, Chief of Odisha and other judges. Will be represented.
The Bar Council of India Trust will conduct all the above-mentioned programs of the institute itself for the initial 3 years. Thereafter, some National Law Universities and other institutions having adequate infrastructure (infrastructure) will also be allowed to offer courses on the lines of IIL.
We have decided to develop skills in participatory teachers by the active cooperation of judges of the Supreme Court and High Courts and eminent jurists, eminent senior advocates of the bar, NLU, and other eminent law teachers. Such people will be the guides, full-time teachers, and guest teachers of that institution.
Apart from this, the BCI Trust will also invite eminent foreign law deans, academicians, judges and representatives, and members of the bar for the said program.
All the above legal giants will share their pearls of knowledge and experience which will not only benefit the law teachers and legal practitioners but they will also get.