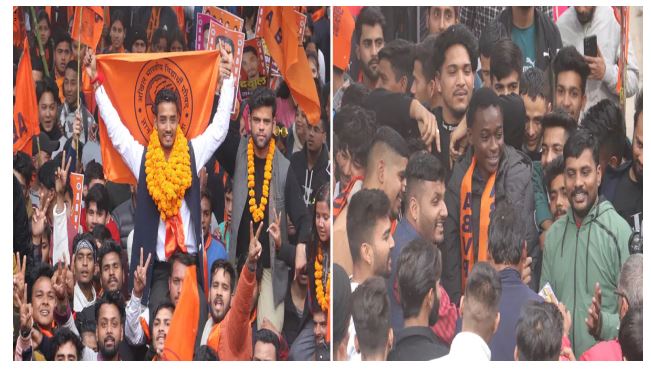 Students union will be formed in colleges across the state on Saturday after two years.
State's 119 Government Post Graduate Colleges and four aided:
Voting will be held in non-government colleges i.e. total 123 colleges from 9 am to 2 pm. Immediately after that the counting of votes will take place and in the evening the results of the student union elections of all the colleges will be declared.
The rules of Lyngdoh Committee will be strictly followed:
The rules of the Lyngdoh Committee will be strictly followed during the student union elections. Political parties have also made this a question of their prestige in the student union elections. Office bearers of political parties are playing an active role of strategists in elections. 119 government colleges across the state are affiliated to three state universities, Sridev Suman Uttarakhand University, Kumaon University, Haldwani and Soban Singh Jeena University, Almora.
While four aided non-government colleges of Dehradun DAV, DBS, Shri Guru Ram Rai PG College and MKP PG College are affiliated to Hemvati Nandan Bahuguna Central University. In the student union elections mainly the candidates of National Student Union of India (NSUI), Akhil Bharatiya Vidyarthi Parishad (ABVP), Aryan, Satyam Shivam Student Organization, SFI have entered the fray.
ABVP and NSUI fielded candidates in colleges:
ABVP and NSUI have fielded their candidates in almost all the colleges. Other student organizations are contesting elections in only a few colleges. There are more than 10,000 student voters in the two biggest colleges of the state, DAV PG College Dehradun and MB College Haldwani. A heavy police force has been deployed in DAV College to see that no untoward incident takes place regarding the student union elections.
This time the election of the president for Akhil Bharatiya Vidyarthi Parishad in DAV College remains a question of prestige. ABVP has been winning the post of President for 13 consecutive times in DAV PG College. This time his candidate is facing tough competition from the candidate for the post of NSUI President.
On the other hand, Director of Higher Education Prof. Mahabir Singh Rawat said that the student union elections will be held on Saturday in all government colleges affiliated to three universities and four aided non-government colleges in a single day. All the college administrations have been instructed to conduct peaceful and fair elections.
Orders have been given to strictly follow the rules laid down by the Lyngdoh Committee during the elections. On the other hand, all student organizations, teachers and employees of the college have been advised to be extra vigilant regarding Corona.