---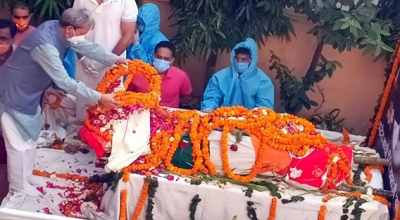 ---
Former state president of Uttarakhand BJP and former Union Minister of State for Bachhi Singh Rawat merged into five elements on Monday. He was cremated with state honors at Chitrashila Ghat at Rani bagh. His son Shashank Rawat offered to fire. Earlier, his body was kept in the Kumaon division office of the BJP for the last visit.
CM Tirath Singh Rawat, Union Education Minister Ramesh Pokhriyal Nishank, BJP State President Madan Kaushik, Cabinet Minister Banshidhar Bhagat, Minister of State for Higher Education (Independent Charge) Dhan Singh Rawat, MP Ajay Bhatt, Ajay Tamta paid floral tributes on the body. The body of Bachi Singh Rawat reached the residence at Karail Joulasal at 2 pm. The autopsy reached the BJP office at 3 pm.
A large number of BJP workers and common people arrived for the last darshan. At the funeral, Mayor Jogendra Rautela, BJP District President Pradeep Bisht, former incumbent Hemant Dwivedi, MLA Pushkar Singh Dhami, Rajkumar Thukral, former Sasad Balraj Pasi, Suresh Tiwari, Ajay Rajour, former MLAs Narayan Pal, Anil Kapoor Dabboo, Suresh Bhatt, Vijay Bisht, Suresh Tiwari, Pramod Bora, Yogesh Rajwar, etc. were present.
CM Tirath Singh Rawat said that Bachata was a symbol of simplicity and simplicity. Many Kendriya Vidyalayas were established in Uttarakhand when he was a minister at the Center. Bachata played an important role in getting central status to Arya Bhatt Observational Science Research Institute (Aerys) Nainital in the year 2004. His contribution will always be remembered. CM Rawat said that the escape of Bachata is a big loss for the entire state, which is not possible to compensate.