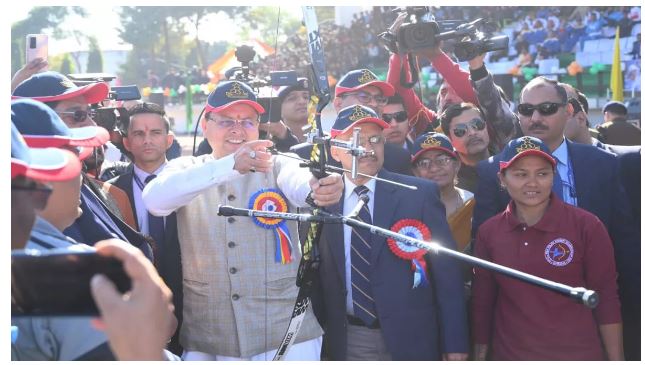 On Wednesday, Chief Minister Pushkar Singh Dhami inaugurated the 11th All India Police Archery Competition at Police Lines in Dehradun. During this, the Chief Minister announced the resumption of sports quota in the state.
Welcoming the archers from different states and armed forces, Chief Minister Pushkar Singh Dhami said that the land of India has been the mother of archery.
Archery, which has been known as Dhanurvidya in Indian culture, has been a major sport as well as an ancient art of warfare.
Our history has been a witness to the valor and archery skills of brave archers:
It has been said that whether we talk about the archery of Maryada Purushottam Lord Shri Ram and Lord Parshuram in Tretayuga or talk about the archery of Bhishma, Arjuna, Karna and Veer Abhimanyu in Dwapar Yuga, our history has been witness to the valor and archery of great warriors and brave archers. .
The great land of Dehradun itself has been the penance place of the great archer Guru Drona. Organizing this competition in Dehradun is a matter of pride in itself.
New sports policy implemented to promote sports:
The Chief Minister said that a rich sports culture is developing in the country under the leadership of Prime Minister Narendra Modi. As a result of which our sportspersons are showing commendable performance at the international level in various sports. New sports policy has been implemented to promote sports in the state.
In the sports policy, arrangements have been made for the upgradation of sportspersons and their infrastructure. Sports are beneficial for the all round development of a person. Sports also give us punctuality, patience, discipline and motivation to work in a group. The Chief Minister said that in the field of sports, India's name is being brought to international glory by our youth.
During this, Director General of Police Ashok Kumar said that the All India Police Archery Competition is being organized for the first time in Uttarakhand. A total of 26 teams including armed forces including police teams of 19 states are participating in this event.
316 players are participating in the competition:
A total of 316 players, including 196 men and 120 women players, are participating in the tournament, which will run from December 14 to 19.
Mayor Mr. Sunil Uniyal Gama, MLA Cantt Mrs. Savita Kapoor, President of Uttarakhand Archery Association Mr. Rajendra Tomar, Organizing Secretary Mr. Mukhtar Mohsin, high officials of police department, national and international level players were present on the occasion.